In Chronicles of Arcadia there are different way to get to different places inside the game. You can use a Mount, teleport with Snoop the Stubborn, use the Transport Book, the Black Codex Transport Spell, your Recall, Marriage, or the Transport skill to your start zone.
Mounts are a quick way to get from point A to point B. You can choose between a big variety of different mounts. In Item Shop you can choose between 7 Days, 30 Days and Permanent Mounts. Also, you can have luck by using the Wheel of Fortune to get a Permanent Mount. If you buy VIP, you will also have the mount "Golden Monoceros" in that time.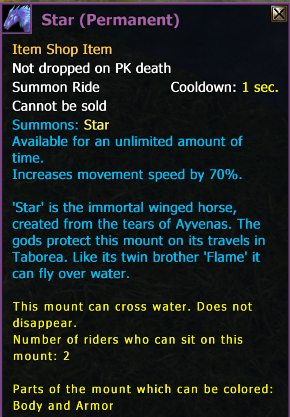 Many Mounts have different speeds. There are ones that have +60% speed and faster ones, that can get up to 75%. There is also a fun Mount, that reduce your speed.
There are Mounts that can carry one or two players. The Dagger Skeleton Mount is the only Mount in game, that can carry up to 6 players.
Some Mounts have special features as that they can cross water, without disappearing or have no cast time before using. Some Mounts also can be colored.
Every Mount speed can be increased by using additional things like titles, Housemaid potions or the Mount Speed Potion/ Lesser Mount Speed Potion.
| | |
| --- | --- |
| You can find the little dog next to each transport portal. Every zone has one of it and has to be activated once. After it, you can port for a very small amount of gold to other zones, that you have already activated. It is advisable to activate the portal immediately after entering the zone in case you have to leave it or doing something else, it's the fastest way to get back. You mostly can find Snoop near a big city. | |
The Recall can be activated at Snoop the Stubborn with clicking at "I want to register my recall point here.". Everywhere, where you find a Snoop, you can set your recall point. To use it, you have to open your skill book and use the skill "Recall" in the General section, or you drag the icon in your skill bar. It is usable once per hour. The Recall skill shares the same Cool Down as your Transport skills to your start zone.
The Transport Book you find on the lower right side of your interface.

To set a point, you need Marking Ink. Click on the button Mark Transport Point and it will appear in the list above.

You can rename it, as you want to and when you click on it, you can choose if you want to transport there, open a transport portal (one-way for more than 1 player) or open a passageway (two-way for more than 1 player). You can also delete a transport point if you want to.
The Black Codex Transport Spell is an important skill, which can teleport you to every instance in the game. You can learn it in Kampel Town in Land of Malevolence at the NPC "Black Codex Transporter" for 200 Ancient Mementos. After buying it, you will find it in your spell book in the General section.

Same as in the Transport Book, you will need 1 Transport Rune to teleport to the instance.
When married to another player, you can use your marriage ring to teleport to this player. You can not teleport, when you or the other player is in an instance or house/ guild castle zone.
See more in Relationships.
In the General section of your skillbook, you will find more ways to teleport. Depending on which Race you are playing, you will get a Teleportation Spell for your start zone and later also for Reifort, Heffner Camp and Port of Thousands Havens. These skills share the same Cool Down as your Recall skill.
| | |
| --- | --- |
| Transport Rune | Teleport via Transport Book or Black Codex Transport Spell |
| Transport Portal Rune | Opening a transport portal for 1 or more players via Transport Book |
| Passageway Rune | Opening a passageway that offers bi-directional transport for one or more players between the current position and a transport point. Used via Transport Book |
| Home-sweet-home | Right-click to transport to your own house |
| Guild Castle Transport Stone | Right-click to transport to the guild castle |