The Honor Party system encourages high-level players to help low-level players with quests. Each player is rewarded with a unique currency—Training Points for low-level players and Spirit Points for high-level players—which can be spent in the Honor Shop for useful items.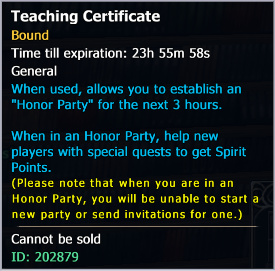 To create an Honor Party, a player needs a Teaching Certificate obtained from the NPC Lehmann in either Varanas Class Hall or Atlantis. The first certificate is free after completing the pre-quest "Great Instruction", while subsequent certificates can be purchased from the NPC. Once the Teaching Certificate is used by the Tutor, they can invite other players up to their own level. However, the system will not work if the Student is of a higher level than the Tutor. Also, you can obtain the title "Chronicler's Mentor", when you have helped to complete 250 Quests.
¶ Identifying and Completing Honor Party Quests
The quests can be identified by the orange exclamation mark above the NPCs' heads and also found here in the wiki: Quest List. Upon completing each quest, the student players can receive one of five random buffs:

Acclaim of Defense - 10% reduced damage
Acclaim of Strength - 2% increased damage to monsters
Acclaim of Luck - 50% increased drop rate
Acclaim of Experience - 30% increased experience and talent points
Acclaim of Swiftness - 25% improved movement and riding speed
Additionally, the quest book will display a different appearance. Alongside the standard rewards, players will earn Spirit/Training Points. Spirit Points are for the helping player, while Training Points are for the assisted player.
¶ The Honor Shop: Item Selection and Currency
In the Honor Shop, players can find useful items for both low and high levels. The offerings vary between Lehmann's selections and can be purchased using the currency earned from completing quests. To check the number of points a player has accumulated, they can open the Currency List, where the currencies are displayed at the bottom.