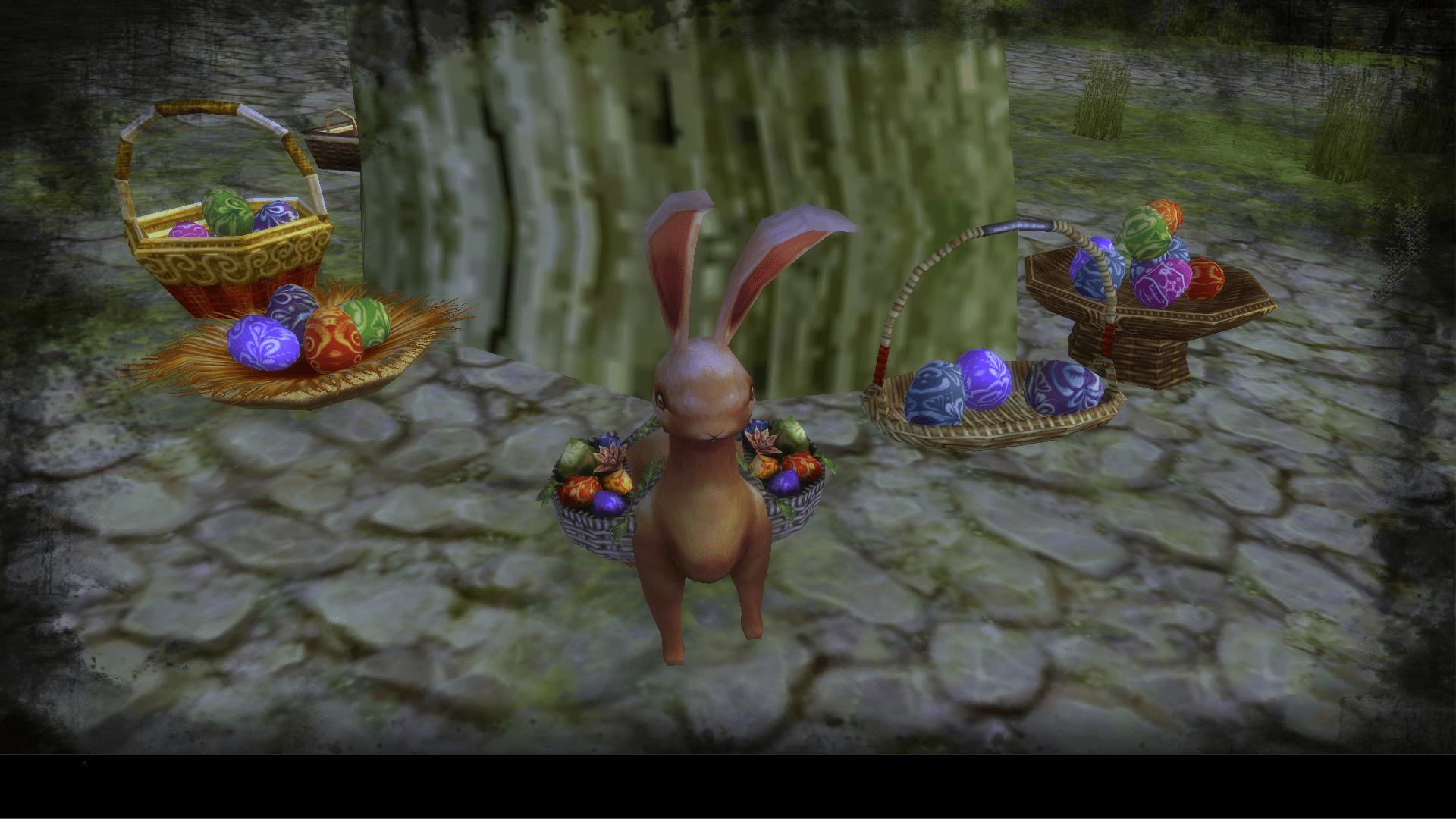 The Spring Rain Festival usually takes place at Easter. Come and help the residents of Taborea and Wabbits.
You can participate in all Spring Rain Festival events again (except of Happy Digging) by buying a Spring Rain Festival Repeat Ticket at Lina Wabbit (Varanas), Nier Wabbit (Obsidian Stronghold) or Aywa Wabbit (Dalanis).
In this Event, you can gain different titles:
Divine Art
Demonic Graffiti
Tortoise is also a fleet-footed runner
Omnipresence
Light's Melody
Paint Bullet Shooter
Gale Wabbit Legs
Spring Rain Sniper
Location: Howling Mountains - Helen's Farm
Time: 11am, 4pm, 8pm CEST
Follow one of the 3 Wabbits that will lead you to hidden treasures, which you must dig up. There will be 5 digging places, which can be used by each player around. Once a hole is dug, it can't be dug again. Each hole can give different rewards. After the last hole was dug, the Wabbit will disappear.
Possible rewards per digging hole:
small, medium, large Bomb
Elite monster
Phirius potion
Phirius elixir
1 x Earth Crystal
Location: Varanas - Lina Wabbit / Obsidian Stronghold - Nier Wabbit
Return 10 stolen Rainbow Eggs. Between the Pioneer Colony and Logar you will find Goblin Egg Thieves in the Hidden Valley Mines. If there are not enough Goblin Egg Thieves, kill the normal Goblins (they share the same respawn points).
Reward: Empty Magical Bag (needed for Petal Gathering)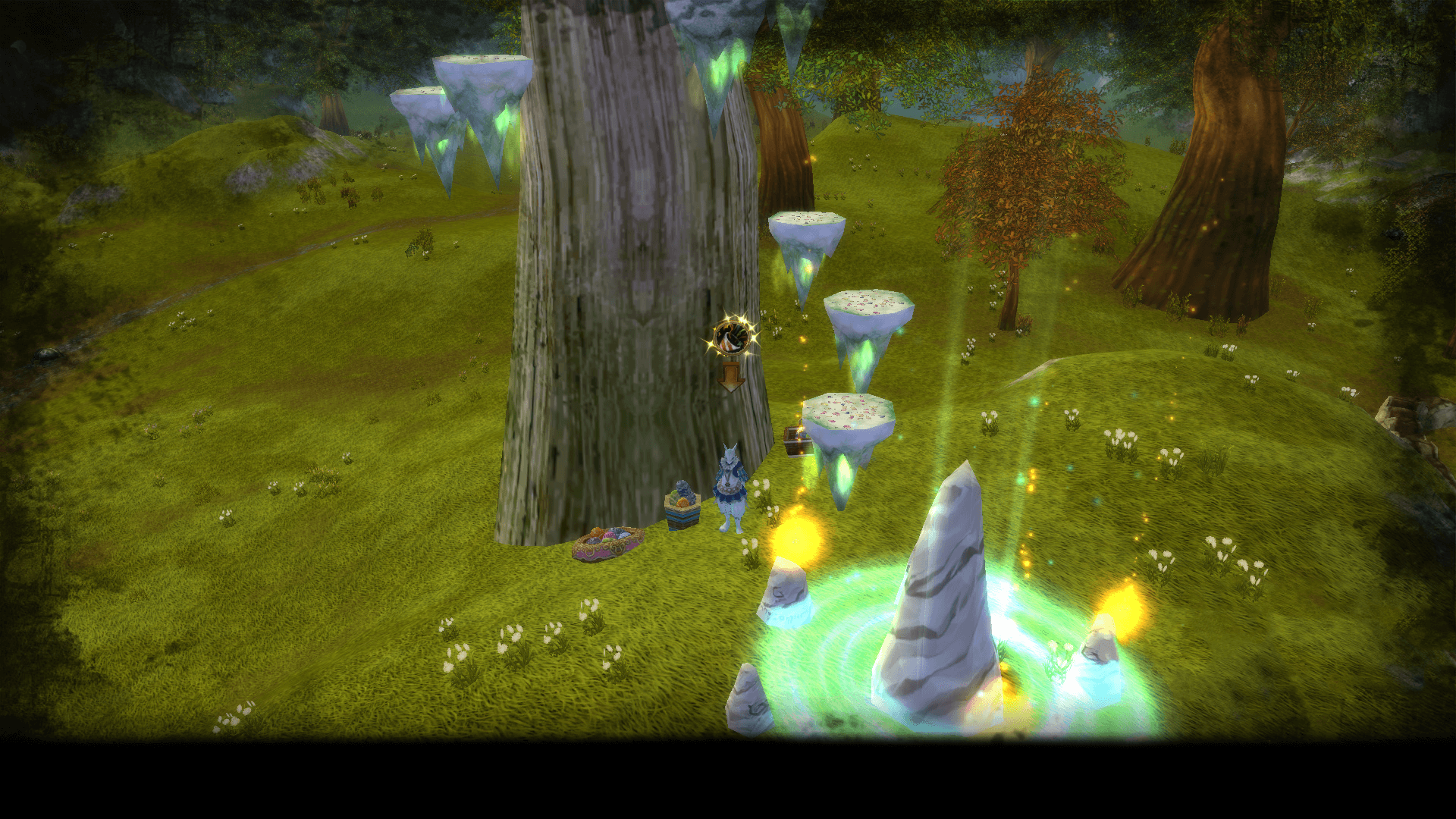 Location: Varanas - Lina Wabbit / Obsidian Stronghold - Nier Wabbit
Go to Logar and climb the rainbow tree next to the mill and fill the Empty Magic Bag. Jump the platforms along the tree and fill the bag at the top of the tree. The last jump over a branch is not needed. You can already fill it from the platform you are standing on.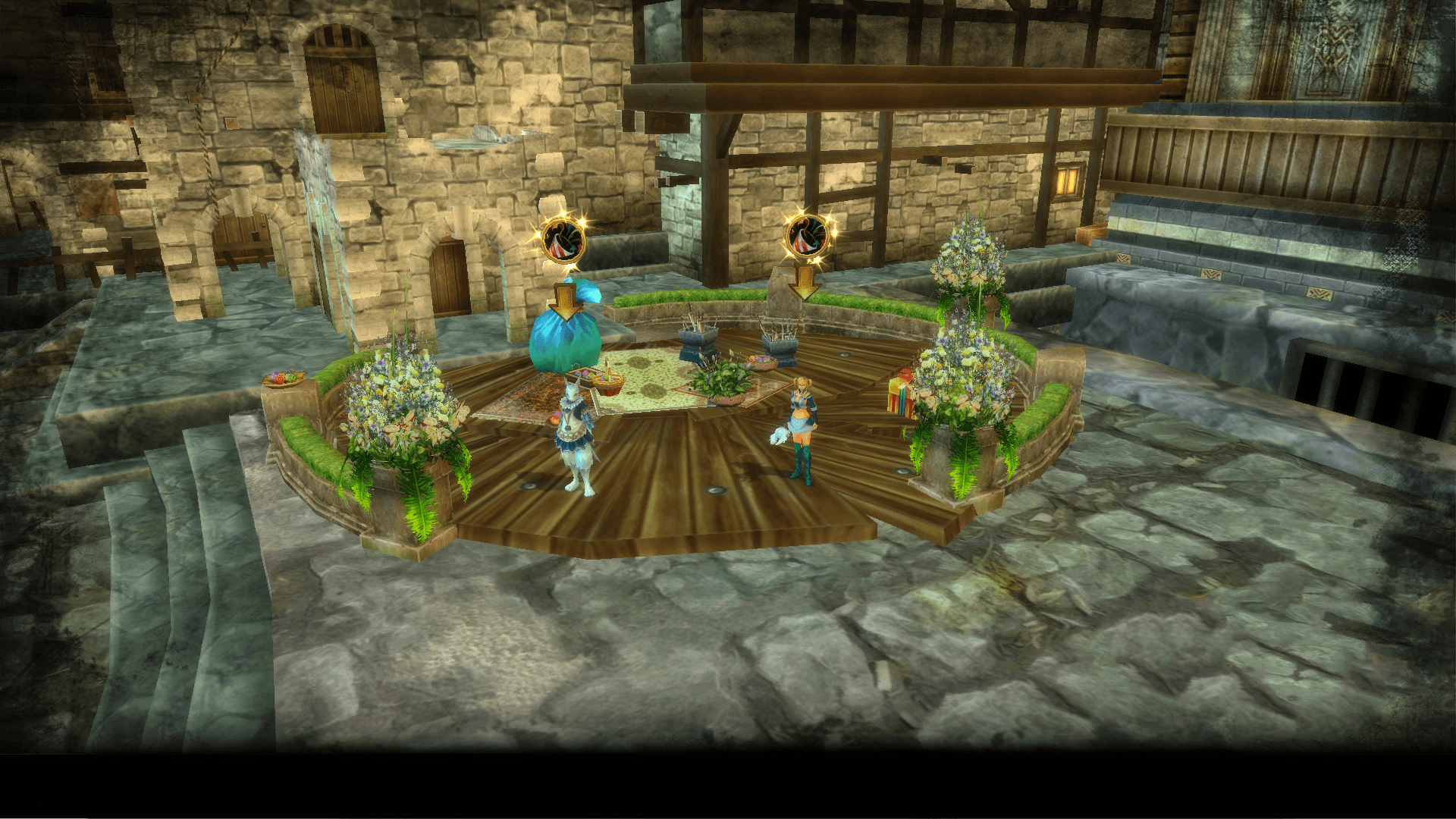 Location: Dalanis - Ayester Bunni
You will get 3 Spring Rain Festival Rainbow Eggs. Deliver them to the hiding Wabbits in front of Dalanis by clicking them.
Location: Dalanis - Jessica Bunni
Bring the Wabbits within 5 minutes home.
Listana Waterfalls (45.8, 74.1) – a tree near the waterfall
Behemoth skull (34.5, 58.6) – at a tree towards the river
Milasso Forest (30.3, 41.1) – from the bridge behind the tree towards Glenraebor
Upstream of the Glenraebor (34, 21.1) – at the tree before the bridge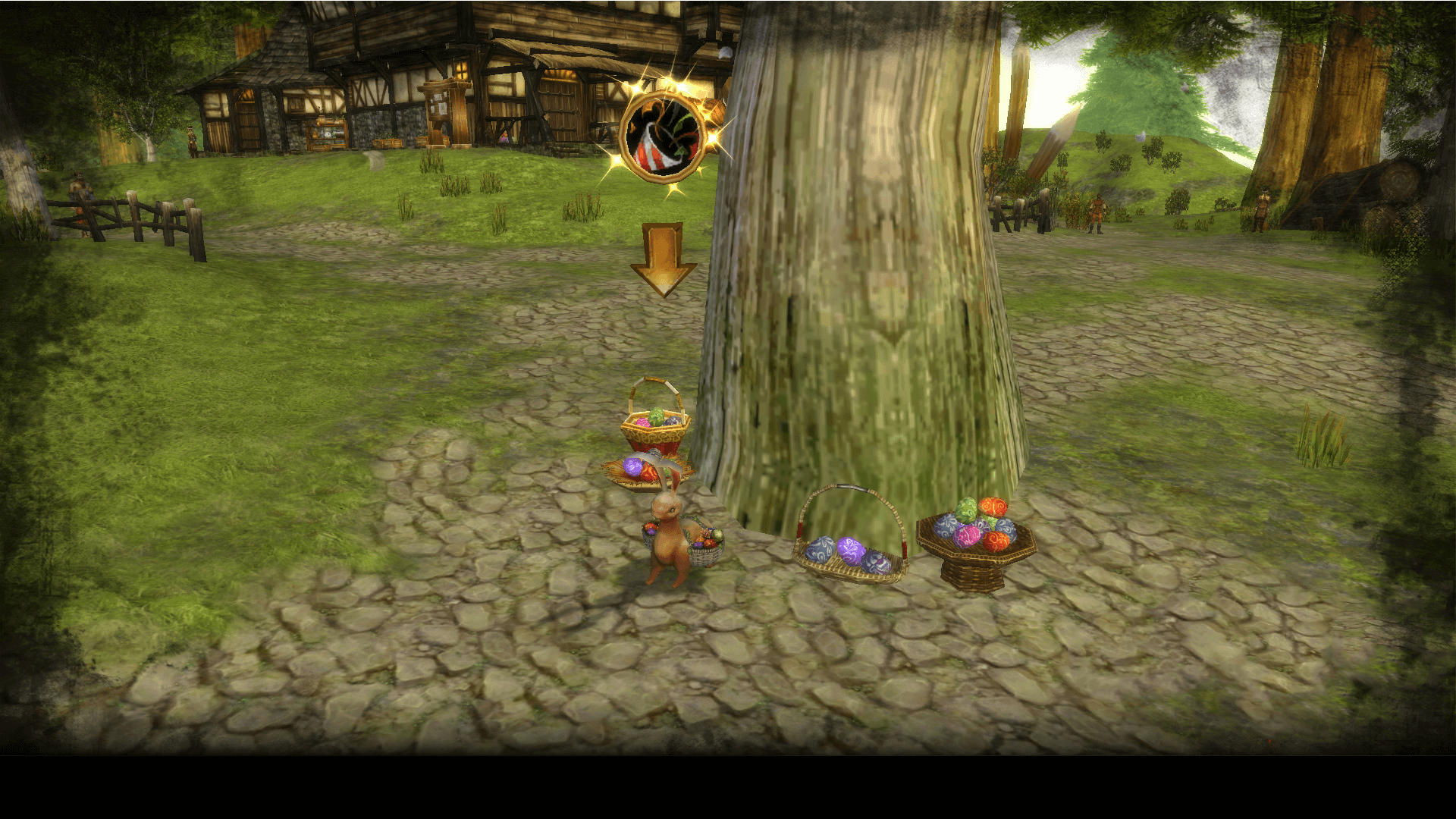 Location: Aslan Valley - Kekai Wabbit
Everywhere near Silverfall are lost Wabbits running around. Capture 5 of them with an empty box. When one of the Wabbits escapes, try to catch it again.
Location: Varanas - Angela Bix
Titles:
Omnipresence – Do every element once
Light's Melody – With much luck you can get a sublime gleaming chicken egg when picking up the eggs
Collect with the disguise tool set the remains of a chicken near Varanas Bridge. Then you will receive a disguise tool set with a specific element, with which you can transform into a Wabbit (lasts 30 Minutes). The elements are water, fire, earth and wind. Use the extra skill "Egg Fire" on a chicken with your element, to make it lay an egg. Every chicken can change their element.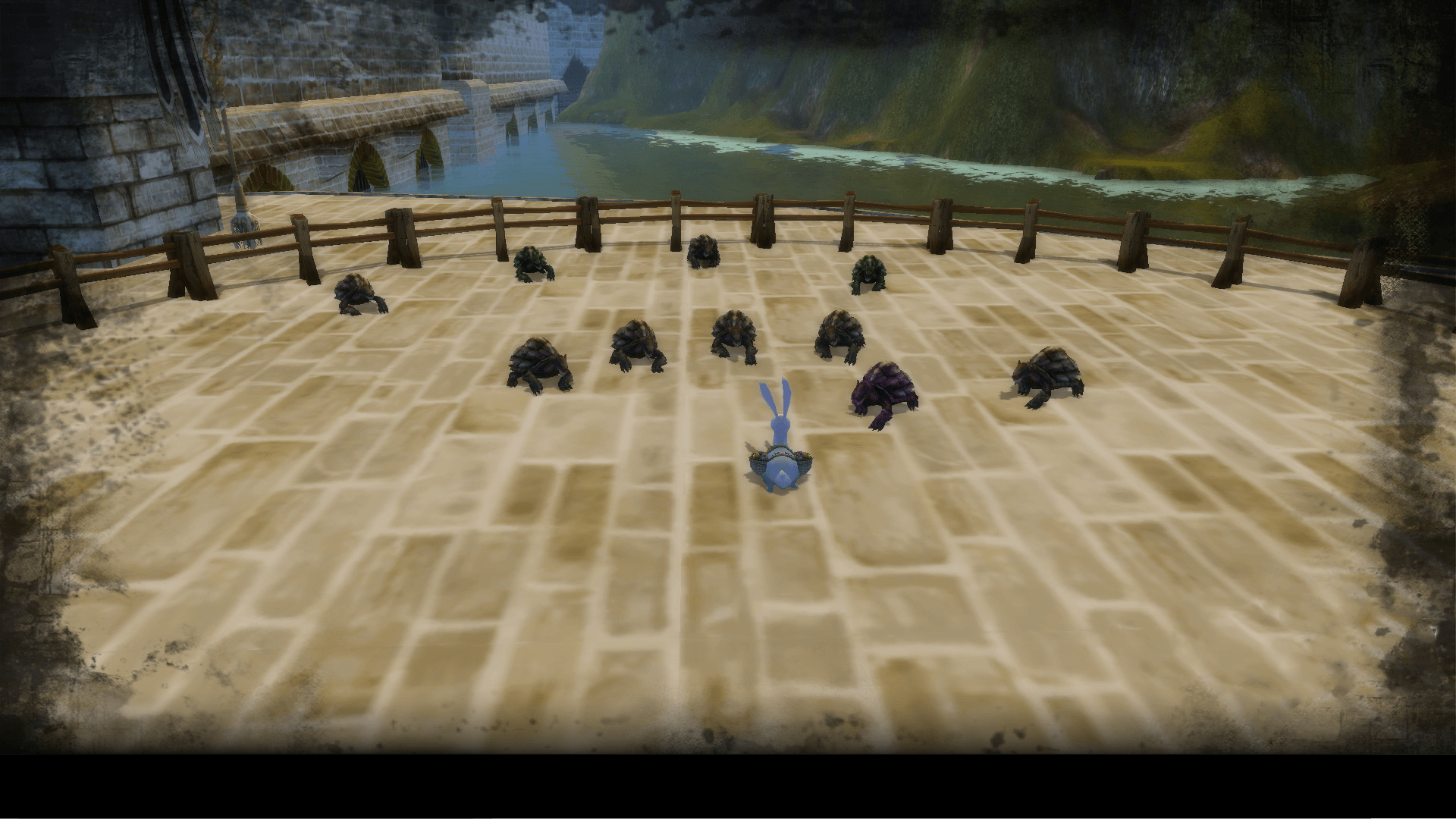 Location: Varanas Bridge - Yakubi Wabbit
Title:
Paint Bullet Shooter – If you fended off all turtles (you have to talk to the NPC next to Angela Bix to get the title)
After talking to the NPC, you will get a game certificate. Choose one of the both Wabbit and click it. You will become one of them and look through the first person perspective. With the skill you have, you have to shoot at the approaching turtles.
Location: Varanas - Danny Wabbit
Title:
Tortoise is also a fleet-footed runner – follow Deedee for 150 seconds continuously
On the road between Varanas and the Howling Mountains, you will find a running Wabbit. Once you come near it, you will be transformed into a tortoise and a buff will count up as long as you successfully follow the Wabbit. Deedee sets traps while you chase him. If you run into one of these, you will either get a stun, fear or slowed down.
Deedee always runs exactly the same route and speeds up at the same spots.
Location: Varanas - Cecil Owanni
Titles:
Divine Art – turn in a total of 10 Legendary Rainbow Eggs (equals exactly 100% painting progress)
Demonic Graffiti – turn in a total of 10 Legendary Black Rainbow Eggs (equals at least 220% painting progress)
Cecil Owanni will port you to the Lake of Magic Mist to collect 6 flowers. Bring them back to him, to convert them into paint. You will receive an egg and paint from the NPC. With the color and the egg, you need to visit the 3 painters. Each of them will paint the egg twice for free. Depending on the location of the painter, the progress of the painting on the egg will be different (Administrative District 1-60%, Lower Varanas West 1-40%, Lower Varanas East 1-20%).
With the use of transport runes, the painters can paint the egg more than twice:
| | | | |
| --- | --- | --- | --- |
| 1 transport rune | Administrative District 1-20% | Lower Varanas West 40% | Lower Varanas East 60% |
| 2 transport runes | Administrative District 20% | Lower Varanas West 40% | Lower Varanas East 60% |
| 6 transport runes | Administrative District 100% | Lower Varanas West 100% | Lower Varanas East 100% |
Location: Varanas - Clifford Sharansk
Time: 9pm, 10pm, 11pm, 12am CEST
Title:
Gale Wabbit Legs
Spring Rain Sniper
You and at least 3 players will be ported to a small area next to the NPC. You will see many boxes as obstacles. One of the players is the Wabbit and has to try to not get caught by the other players. The other players have to try to caught the Wabbit, to become one themselves. While you are the Wabbit, seconds count up how long you were able to stay a Wabbit. Players can use special buffs to hinder each other.
You can obtain materials needed to create Zodiac Pets (Fire Element) and Draco Pets (Pyro-Draconaris).
Each Package costs 12 x Earth Spirit Crystal.
Rainbow Egg Package: (obtain one of the following)
Transformation Potion Box - Rainbow Egg
Rainbow Egg Costume Package
100 Points of House Energy
500 Points of House Energy
1000 Points of House Energy
Exquisite Rainbow Egg Furniture Package
Guild Resources
Aries Pet Crystal
Castor's Package: (obtain one of the following)
Transformation Potion - Sacred Ice Crystal JuJu
Transformation Potion - Breaking Dawn JuJu
Transformation Potion - Exuberant Celebration JuJu
Transformation Potion - Greenfeather Sparrow JuJu
Spring Rain - Pet Box (7 Days)
Spring Rain - Pet Box (30 Days)
Spring Rain - Pet Box (Permanent)
Noble Wabbit Costume Package
Rabbit Cabinet
Transformation Potion - Blue-Eyed Speckled Rabbit
Aries Pet Crystal
Guild Resources