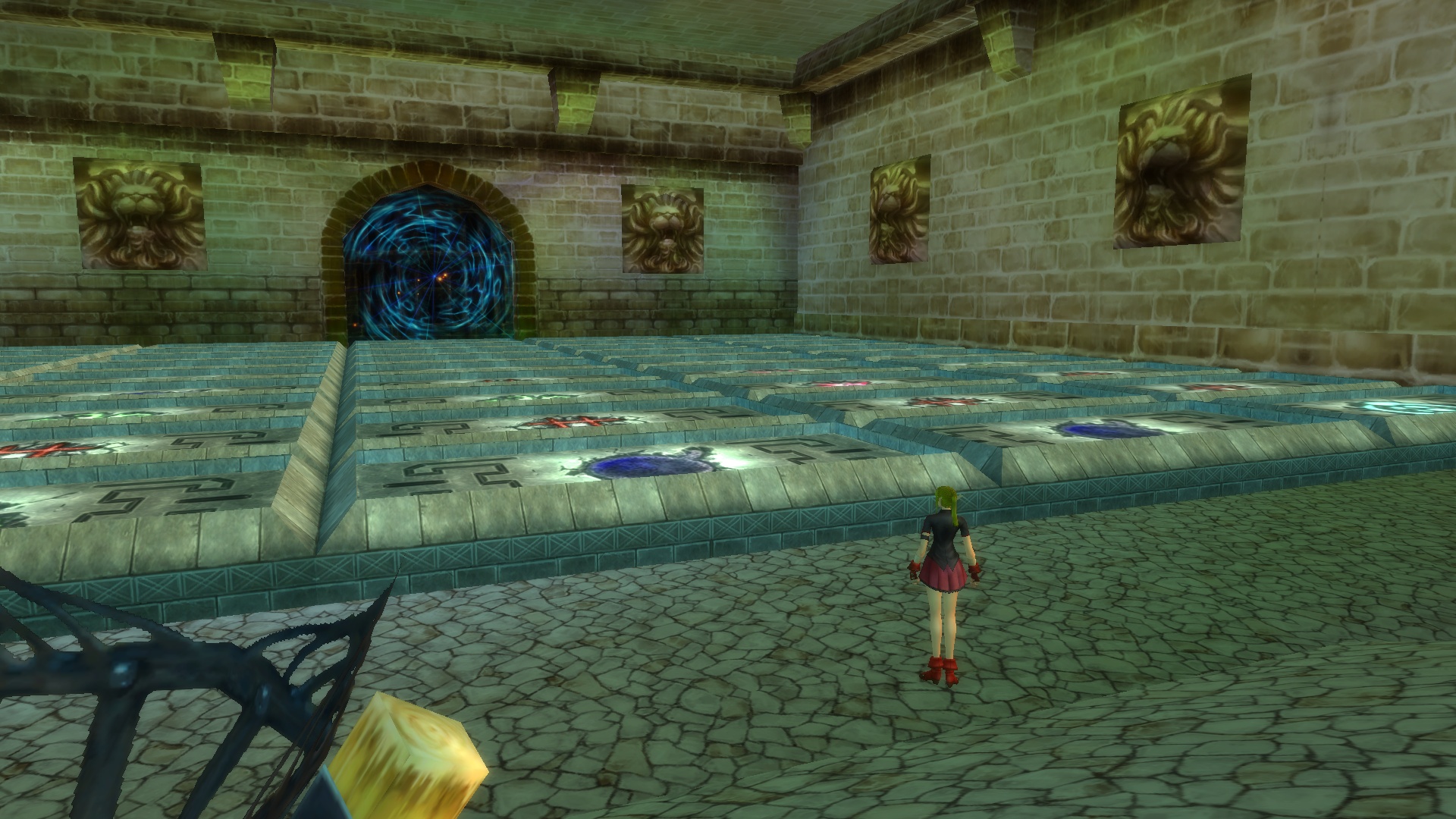 Go to the clown Malatina in Atlas to enter the game. You have to choose "Course of Terror". After entering you will find yourself in an entrance hall. Clicking the NPC will start the game after an animation. The game lasts 15 minutes and after the time runs out, you will pet ported out.
Goal of the minigame is it to solve the puzzle, get all keys and run through the exit in time. Inside the game you will see 6 different seals which you have to click to use them:
Seal (Giant Vine) - can be destroyed by clicking to get a branch from it and run back to the entrance to light it at the fire, go back then to burn the vine
Seal (Iron Gate) - a wall which you have to kill with your skills
Seal (Void Summoning Barrier) - summons Clown Spirits, barrier and clowns can easily be killed
Seal (Magic Gate) - Sends you back to the entrance
Seal (Heavy Artillery Vehicle) - choose one of the other Seals to get instantly killed
Seal (Treasure Key) - click to collect the key
The game has 4 levels. In each level the number of keys equals the level. Means in level 3, you have to collect 3 keys and in level 4, you have to collect 4 keys. In the end of the game you can collect chests with these keys until your time runs up. If you notice that you won't have enough time after round 4 to collect all chests, collect them after each round.
If you finish round one before 9:00 on the timer will spawn a Precious Chest. If you finish round 2 within 3 minutes, you will get the key for it. Also, if you finish round 3 before 6:00 on the timer, another Precious Chest will spawn. Finish round 4 within 3 minutes to get the key.
Inside the instance you can bug scrolls at the NPC for Ghost Cards before accepting the challenge.
Curse Scoll (Cannon Permutation) - Turns a Seal (Giant Vine) within a range of 50 into a Seal (Heavy Artillery Vehicle)
Curse Scroll (Instant Transport) - Transport yourself to the Course of Terror entrance
Curse Scroll (Time Extension) - Use this to change the time limit of Malatina's Course of Terror from 15 to 20 minutes
Curse Scroll (Wicked Freeze) - Permanently freezes all Clown Spirits and Void Summoning Barriers within a range of 150.
| Title | Requirement |
| --- | --- |
| Please give me a little more time | Trade 50 x Ghost Card |
| Ghost Card Collector | Trade 100 x Ghost Card |
| Fire! For victory! | Trade 150 x Ghost Card |
| More bombing equals more treasures | Trade 200 x Ghost Card |
| Who else wants to be cannon fodder? | Trade 250 x Ghost Card |