In Chronicles of Arcadia the House System was completely reworked and offers now way more furniture and other possibilities to design your house.
When entering your house for the first time, you will own the basic house called Single-Story Wooden House. The Housing Interface will allow you to change every aspect of the house system.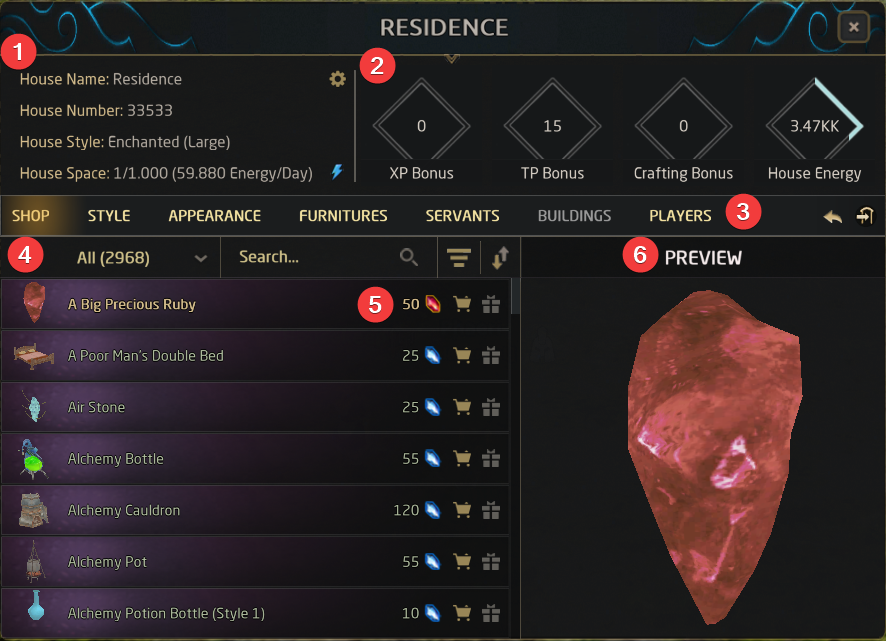 Gives you important information about your house like name, style, space and daily energy cost
Shows you how much bonus you get from your placed furniture and your total amount of house energy
These buttons will show you different windows inside the interface

Shop - You can buy furniture for different currencies
Style - Buy an Internal House Contract or External House Contract and activate it by clicking Activate in the same line
Appearance - Add your bought furniture and place/rotate/scale it
Servants - Buy and place your Housemaids
Buildings - TBA
Players - Add player permissions for Blocking, Inviting (with time condition or permanent) or adding other players as House Friends
Returning to the Housemaid - you can port from anywhere in your house back to the main Housemaid
Leaving the house

Use categories or type the name to find furniture faster, order the furniture by Name, Category, Rarity, Price Type or ID or sort it by ascending or descending
Shows you the currency and price, by clicking on the shopping cart you buy the item and the gift package is for sending it to other players
Preview of the item
In the upper corner of the house infobox, you can reach the House Settings by clicking the cog symbol.

Inside the settings, you will find different options.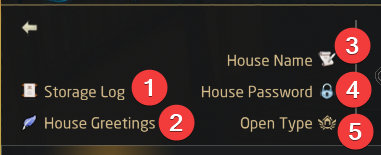 Storage Log - in here you will find all changes regarding your storage, e.g. a house friend took something out of your chest
House Greetings - write an automatic greeting/goodbye or a message when opening the furniture for your house friends
House Name - give your house a name
House Password - put a password to enter your house
Open Type - Change your house open type, invite and block others or let them use a password
Next to the internal house contracts, you will be able to find external house contracts, which you can design as you wish to. The Internal House Contracts cost 100 Diamonds each, the External House Contracts cost: Small - 500 Diamonds, Medium - 2.500 Diamonds and large - 5.000 Diamonds. Each External House Type of the same style looks the same, the size indicates the amount of space allocated for placing furniture.
Elegant Hotel
Elegant Two-Story Wooden House
Expansive Luxury Villa
Luxurious Two-Story Wooden House with Basement
Two-Story Mud House
Two-Story Wooden Family House
Desert (Small)
Desert (Medium)
Desert (Large)
Enchanted (Small)
Enchanted (Medium)
Enchanted (Large)
Volcano (Small)
Volcano (Medium)
Volcano (Large)

In this interface tab, you can recharge your House Energy and increase or decrease your House Space. To enter this tab, you have to click on the energy sign in the upper corner of the House Interface.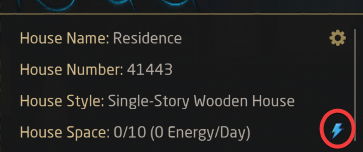 To quickly see your amount of house energy, you can check the House Energy symbol.

On the left side you can purchase more house energy for various functions inside your house. Simply choose the amount that suits your needs and then confirm it by clicking the Ok button.
On the right side you can increase your house space here, by either typing into the infobox, or using the arrow keys. You have two fees to pay, a one time upfront fee and a daily fee. Both scale based on the number of furniture slots currently active. Should you wish to reduce the amount of slots in your house, you can also decrease it here.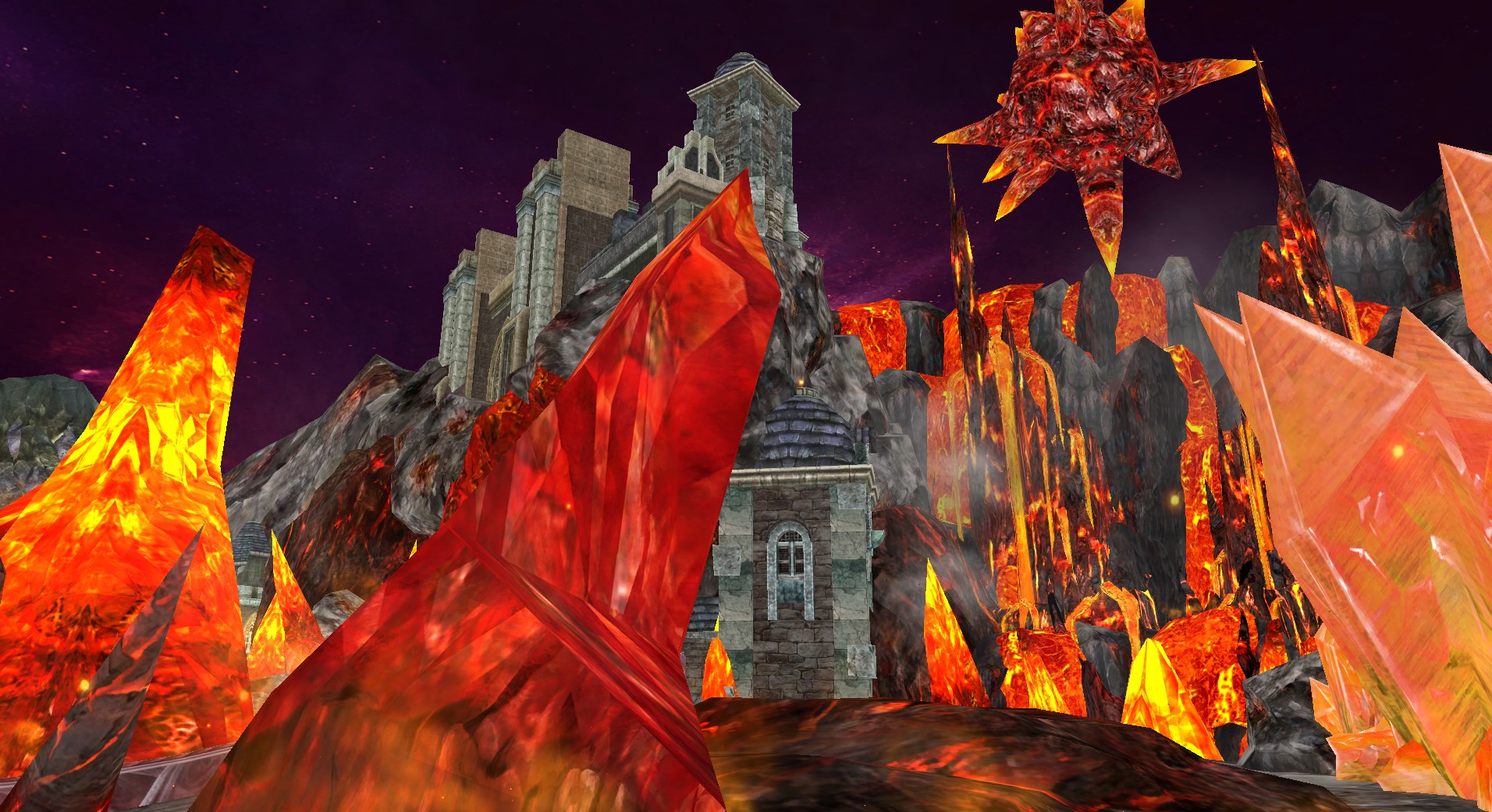 In the Appearance Tab, you can customise your Sky, Music and Ground inside your External House Styles
You can decide between 27 different Skies, which all cost different prices. After buying them, you can activate them in the same tab. There are skies to suit every style.
There are 65 different music titles you can choose from. It will be infinitely be played inside your house.
There are 23 different ground styles you can choose from. In the preview, you can see which one you like most. There are grassy grounds and some with stones, desert grounds, different patterned grounds, marble grounds and even wood grounds.
After buying furniture, you have to add it in the Furniture Tab by dragging it onto the grey field. After that you can place it by clicking on the Place button - you are free to place the item wherever you want. For smaller styles however your space is limited to the region of ground. After that you can click on the button under the Preview to resize the item or move it.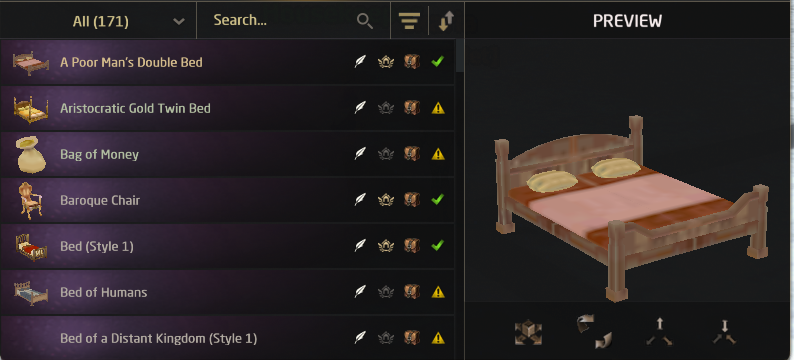 Next to the Place button, you also find the Rename button, Pickup to bag and a notification if the item is already placed or not.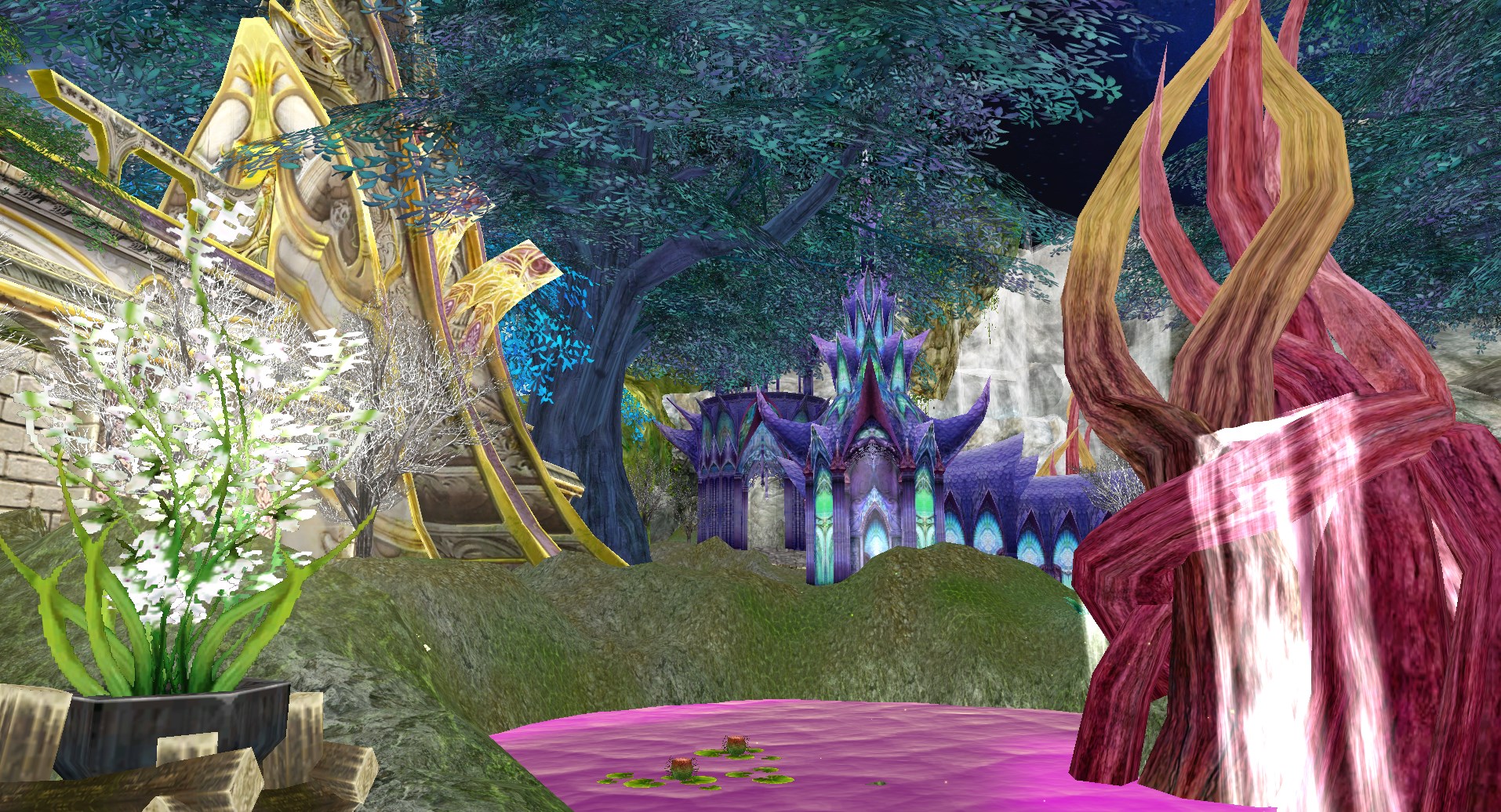 In the servants tab, you can hire housemaids for your house. You can hire up to 6 housemaids which will get more expensive with each you hire. In the Housing Interface, you can choose the housemaid you would like to hire, rename, place or fire.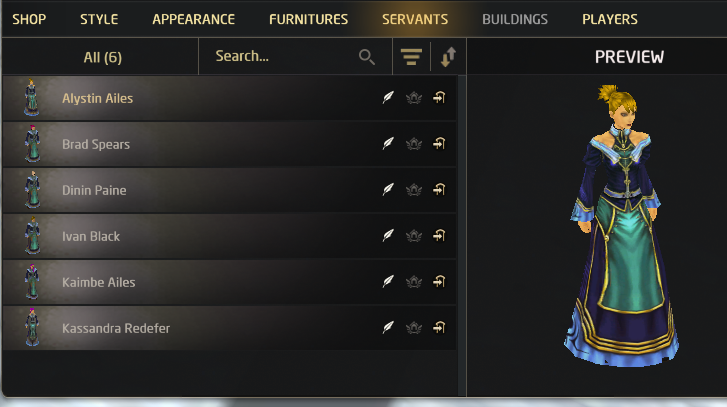 Each housemaid has different abilities such as affinity, charisma, fatigue, magic skills, battle skills, defense skills, cooking skills and inventive skills.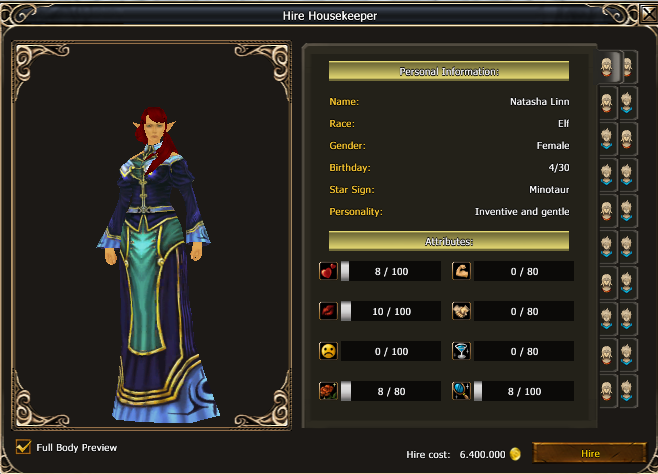 Each skill stands for something else the housemaid can give you. Magic Skills, Battle Skills and Defense Skills will give you a buff, Cooking Skills will give you buff food and Inventive Skills will give you potions. Regarding what you want the housemaid to give you, you should hire one with the highest maximum points in that category.
Affinity will level by chatting to the housemaid and will allow you to use the other abilities when it reaches 10, each chat action will use 15 fatigue. Other actions will increase the fatigue to increase by 25. Once it reaches 100, your housemaid will have to recover for some time. By clicking "Thanks for your help!", you can reset the fatigue of your housemaid for Gold.
The higher the charisma of the housemaid is, the longer is the duration of the buffs you receive and the amount of potions and food the housemaid will give you.
Clicking the second tab in the housemaid interface will show you the housemaid equip spaces. By placing equip parts, you can change the look of the house maid.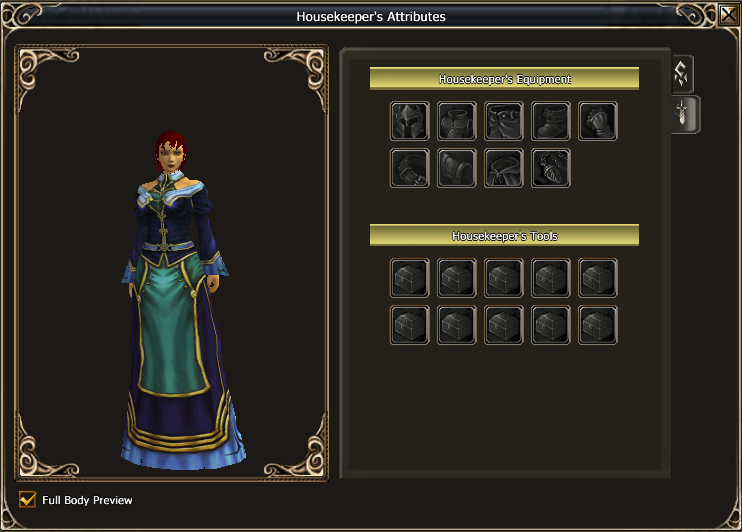 | Magic Curriculum | Battle Curriculum: |
| --- | --- |
| Overflowing Magical Embrace - increases Magical crit rate | Embrace of an Inspired Heart - Increases Physical crit rate |
| Endless Magical Embrace - increases Magical Attack Power | Embrace of a Vibrant Tightness - Increases Physical Defense |
| Charisma 1-40 | Charisma 81+ |
| --- | --- |
| Potion: Galloping Gale - +30% Mounted Movement Speed for 3 Minutes | Potion: Godspeed - +50% Unmounted Movement Speed for 8 seconds |
| Potion: Clear Thought - -10% Casting Time for 1 hour | Potion: Scarlet Love - +5% defense for 10 minutes |
| Potion: Lucky Target - +75% Luck for 1 hour | Potion: Scarlet Love - +5% defense for 10 minutes |
| Potion: Crazy Breakout - Jump very high with each potion usage | |
| Charisma 1-50 | Charisma 50-100 |
| --- | --- |
| Food: Housekeeper Special Salted Fish with Sauce - Increases Physical damage by 3%+48 points. | Food: Housekeeper Special Spicy Meatsauce Burrito - Increases Physical Attack by 11%+840 points. |
| Food: Housekeeper Special Smoked Bacon with Herbs - Increases Magical damage by 3%+48 points. | Food: Housekeeper Special Delicious Swamp Mix - Increases Magical Damage by 8%+128 points. |
| Food: Housekeeper Special Caviar Sandwich - Increases Physical Crit Rate by 48 and Physical Crit Damage by 10% for 1 minute. | Food: Housekeeper Special Unimaginable Salad - Increases Physical attack by 15%+1200 points. |
| Food: Housekeeper Special Deluxe Seafood - Increases Magic Attack by 11%+840 points. | Food: Housekeeper Special Cheese Fishcake - Increases Magical Attack by 15%+1200 points. |