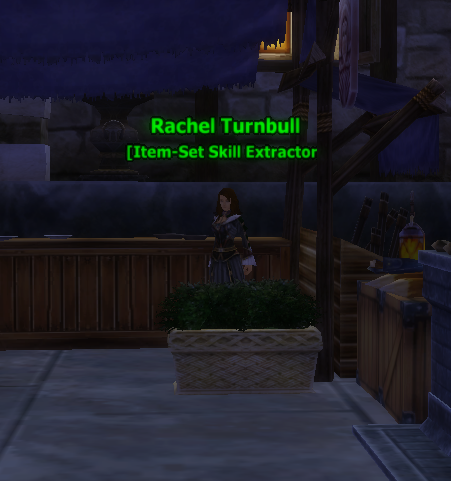 Item Set Skills are additional skills that can be obtained from different Item-Sets. In game players often shorten the term to ISS. Some of these sets can be farmed
in instances and others can be bought from NPCs. The most used NPC to extract these skills is located in Atlas and is called Rachel Turnbull. Another Extraction-NPC
you can find in Dalanis Central District in Thunderhoof Hills. She is called Tatsy Turnbull.
When you have collected all items needed to fulfil one item set, you can extract one set skill. After the extraction there will be a red sentence ("Item-Set Skill has been extracted") on each item, to show you, that you can't extract another skill out of it.
There are two ways to find out, if you already have a Set Skill. You can look on the item, if the name is shown in green or red. Red color means, that you are still missing the skill. Another way is to open the Item-Set Skill tab in System Functions.
Skills you can obtain are split by different levels. Your character will need to reach that level to use them. First ones start from level 51.
Here you can see all Item-Set Skills sorted by class: